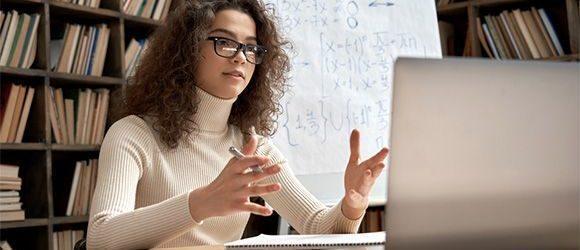 https://www.freunde-tau.org/wp-content/uploads/Teachers580.jpg
TAU study provides insights into preventing burnout among educators.
A new Tel Aviv University study led by Dr. Shahar Lev-Ari, Head of the Department of Health Promotion at TAU's Sackler Faculty of Medicine study examined the psychological resilience of teachers before and during the coronavirus pandemic. The researchers monitored two groups of teachers in central Israel through the greater part of a single schoolyear. The first group received professional support (via the IBSR method), which included workshops and tools for promoting personal health, relieving stress and strengthening mental resilience, while the control group continued to work "as usual" in class and then in online sessions, without this support.
The study took place from November 2019 to May 2020, with participants teaching first in the classroom and then, starting with Israel's first lockdown in March 2020, exclusively online.  In a questionnaire handed out before the beginning of the first study, teachers reported high levels of burnout as a result of large classes, schedule overload and lack of satisfactory resources.
The research team's findings indicate significant gaps: On one hand, teachers in the group that received psychological support reported a significant rise in mental resilience and satisfaction with their lives in general, which continued after the onset of the pandemic. During the pandemic, they reported a better ability to cope and an improvement in their emotional welfare, including more positive emotions, a stronger sense of connection to their work and purpose, and greater drive and ambition. They also reported enhanced ability to relate to and listen to their students and to maximize their professional capabilities in class.
On the other hand, the control group, which did not receive support, reported that feelings of frustration and burnout, exhaustion and low self-fulfillment intensified, both during the academic year and the pandemic, when online teaching was required. The teachers in this group reported feeling "total exhaustion" at the end of the day, and sometimes also frustration and a lack of motivation to start a new workday.
The study was conducted by: Dr. Shahar Lev-Ari, research student Tsafnat Zadok from the Department of Health Promotion, Dr. Ronit Jakobovich, Etti Dvash and Keren Zafrani. The workshops were led by Keren Zafrani, a professional teacher and IBSR expert.
Dr. Shahar Lev-Ari: "The pandemic posed new challenges that naturally generated feelings of stress and anxiety among teachers. In addition to the quick transition to online teaching, teachers had to cope with uncertainty and constantly changing regulations, as well as personal fear of contracting the virus.
Our study clearly shows that when mental resilience is prioritized and tools for overcoming their stress and anxiety are provided, a rise in motivation and emotional welfare is observed. Accordingly, we observed that when teachers did not receive the required guidance and mental skills, their negative feelings, which were also reported in normal times, grew and intensified. This was especially acute during the pandemic – reaching levels of extreme exhaustion and a lack of motivation to start the workday."
Dr. Lev-Ari adds: "Many studies have shown that teachers' burnout is a covert cause of heart disease and sleep disorders, and also has a negative impact on the immune system. Burnout is also the reason why many teachers leave the profession after just a few years of teaching. I hope that following the significant improvement exhibited in this study, the education system will implement intervention programs based on the model described above or similar models. This is especially critical during the pandemic, when teachers face new pressures that intensify feelings of stress, anxiety and frustration."