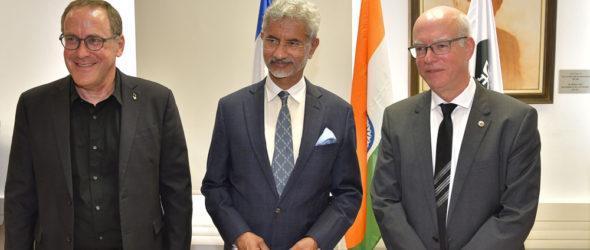 https://www.freunde-tau.org/wp-content/uploads/Image-1_web.jpg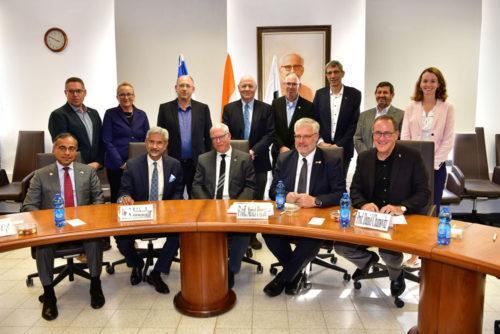 (Left to right): President of Ben-Gurion University of the Negev, Prof. Daniel Chamovitz, Minister of External Affairs of India ,
Dr S. Jaishankar, and President of Tel Aviv University, Prof. Ariel Porat.
All photos by Shlomi Amsalem, Courtesy of Tel Aviv University
Tel Aviv University hosted a meeting of Israeli university presidents with Dr S. Jaishankar, Minister of External Affairs of India. The Minister met with university presidents and senior leadership from Tel Aviv University, Hebrew University of Jerusalem, the Technion, Ben Gurion University, Haifa University and Bar Ilan University to discuss opportunities for expanding and deepening academic ties between the two countries. The Minister also met with a group of Indian students studying in Israel to hear about their experiences and suggestions for how to expand student mobility.
The Minister noted that universities play a significant role in strengthening bilateral relations and whilst there has been increased cooperation in the higher education field in recent years, there is much potential to boost ties in many fields, including technology and innovation. Currently there are around 1,000 Indian students studying in Israel, around half of them post-doctoral students. The Minister said that India is "committed to finding new ways to expand our relationship", and "the challenge before us is how to scale it up and shift it to the next gear".
Professor Ariel Porat, President of Tel Aviv University, noted the significance of the Minister's visit in the context of the upcoming 30th anniversary of diplomatic relations and growing ties between the two countries. Professor Porat stressed that "TAU sees India as a strategic priority and we see great potential in expanding our partnerships with leading academic institutions and industry in India". Professor Daniel Chamovitz, President of Ben Gurion University said "The strong academic collaboration between India and Israel is built on common values which facilitates the personal interactions". The Israeli university leaders called for the establishment of more bilateral mechanisms to support joint research and student mobility.
Roohi Chaudry, PhD student in the field of cancer biophysics at TAU, reflecting on her experiences studying in Israel said "studying at TAU and Israel has helped me to gain insight into so many diverse cultures and take a giant leap out of my comfort zone to unravel endless opportunities. The well-equipped research labs with world class infrastructure and the most advanced innovative learning techniques assisted in reinforcing my desire to take up research as my line of work". She applauded the Minister's visit and called for the "more student exchanges in the future which will prove to be a testimony in strengthening Indo-Israel relations".