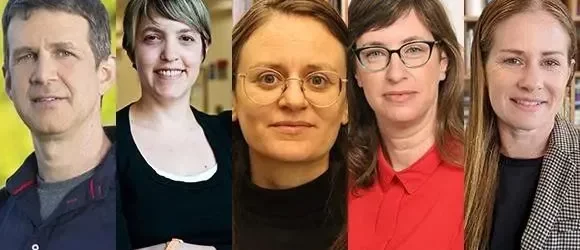 https://www.freunde-tau.org/wp-content/uploads/erc-2023-580_1.webp
The purpose of the grant is to enable researchers to fulfill their research goals, build research teams and promote fruitful collaborations.
The European Research Council (ERC) recently announced the winners of its 2022 call for research grants for mid-career researchers, and Tel Aviv University won five of these grants. The highly coveted grants enable promising researchers to achieve their research goals, promote fruitful collaborations and build competent research teams. 
From Across TAU Campus
"We are very proud of our researchers, and happy about their success. It is exciting to see that Israel in general, and Tel Aviv University in particular, continue to be at the forefront of global science. I am especially happy and excited to see a growing representation of researchers from the fields of Humanities and Social Sciences," says Prof. Dan Peer, Tel Aviv University's Vice President for Research and Development and Head of the Laboratory for Nanomedicine.
The following researchers were awarded ERC grants for their groundbreaking research:
Prof. Yemini researches the interactions between local and global processes in the education system. She explores how young people from different backgrounds in different countries understand and apply global citizenship.
Prof. Schonberg heads the Minerva Center for Human Intelligence in Immersive, Augmented and Mixed Realities and the TAU XR Center. In his laboratory, he investigates mental functions and the neural basis of human decision-making processes. For this purpose, he uses MRI methods, eye movement tracking, various physiological indices, and methods from the computational learning field. He also investigates human decision-making through the construction of virtual reality environments that enable full functionality and are monitored at the highest possible level.
Prof. Limor Landsman from the Cell and Developmental Biology Department researches the function of beta cells, cells that regulate insulin production, crucial for blood sugar control and for the prevention of diabetes. Her team studies how beta-cell function and mass are established and maintained in healthy individuals and why they are lost in instances of diabetes. To this end, they research the crosstalk between beta-cells andother cells in their microenvironment. 
Dr. Weiss is a cultural anthropologist who studies how people navigate moral dilemmas they encounter in their daily lives. She also researches liberalism and its alternatives, especially in the contexts of religious and ethnic coexistence. Through her research, Dr. Weiss explores how different groups in the world find ways to overcome differences and bridge the gaps between them.
Hila Shamir, a Professor of Law at Tel-Aviv University Faculty of Law, teaches and researches Employment, Labor, Immigration, and Welfare Law with a focus on issues of human trafficking, gender equality, informal work, and the law of global value chains. Prof. Shamir is a second time ERC grant winner. As part of her first ERC grant, she established the research group TraffLab: Labor Perspective to Human Trafficking. 
In her current research, Shamir examines efforts to promote workers' rights in global supply and production chains. Her groundbreaking research looks towards various efforts to strengthen the collective power of workers in different parts of the world, to learn how a collective labor law can be developed to counterbalance to the growing power of corporations in the global economy.
Featured image: Winners of the ERC grant for 2023 (from left to right): Prof. Tom Schonberg, Prof. Limor Landsman, Prof. Miri Yemini, Prof. Hila Shamir and Dr. Erica Weiss