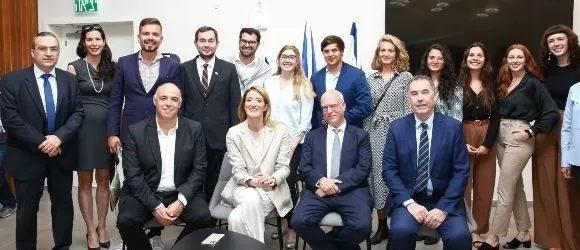 https://www.freunde-tau.org/wp-content/uploads/EP-President-at-TAU-580.jpg
In first stop of Israel visit, Roberta Metsola pledges to work toward bolstered Israel-EU ties.
European Parliament President Roberta Metsola on Sunday visited Tel Aviv University and discussed critical global and regional issues with students in her first stop on a three-day visit to Israel.  
Metsola told a packed hall at TAU's Sourasky Central Library that she would advocate for strengthened ties between Israel and the EU throughout her visit and upon her return to Europe. 
A Message of Collaboration and Hope
"I think there is so much we can do together," she said. "I will take this message with me and pass it on to Israeli and European leaders." 
Metsola, 43, is recognized as part of an emerging generation of leaders in Europe and is the first woman president of the European Parliament in over 20 years. 
TAU President Prof. Ariel Porat and TAU Vice President of Research and Development Prof. Dan Peer greeted Metsola before a question-answer session with students. They underscored the significance of her visit considering the University's centrality in EU-Israel relations. Recognized as one of the most successful institutions under the EU's Horizon programs for research and innovation, TAU researchers have been awarded 183 grants and nearly 180 million euro in funding from the initiative.
The University also boasts a deep network of 236 partnerships in Europe. In addition, hundreds of students from Europe study at TAU International at any given time while the University is expanding its presence on the continent with programs such as its first slated extension overseas at a TAU campus in Florence, Italy. 
During the animated discussion with students, Metsola touched on a range of topics including academic freedom, rising antisemitism around world and Europe, climate change, regional geopolitics, immigration, and Russia's war on Ukraine.  
"My position is the position of the European Parliament—we uphold that peace remains the objective," she said in response to a question about the Middle East conflict. "Our message is one of peace and against violence." 
The Best Weapon to Fight Prejudice
Addressing a student question about measures to combat antisemitism, Metsola acknowledged that the European Parliament has noted increasing antisemitic attacks and conveyed that it is committed to combating the growing phenomenon. She underlined that science and research cooperation is a pillar of EU-Israel relations, while education remains the best weapon to fight prejudice. 
Porat thanked Metsola for coming to the University, noting it was symbolic considering the shared values between the EU and TAU, including academic freedom, plurality, and diversity.
Israeli MK Prof. Yossi Shain, head of the Knesset delegation for relations with the European Parliament, initiated the visit and moderated the event. He is the former head of the School of Political Science, Government and International Affairs at TAU's Gershon H. Gordon Faculty of Social Sciences. 
A Word for Future Leaders
Metsola told the gathering at TAU that both her time in academia and professional training as a lawyer highly influenced her decision to enter politics. She first ran for office at age 24.  
"University was the hotbed of the big discussions of our time," she recalled. In a note of advice to future leaders and those seeking to bridge gender gaps in higher education and the professional world, she added: "Never believe anyone who tells you something is impossible." 
After the event, Metsola took to Twitter saying it's "Always good to listen and discuss the future with young people – where there is dialogue there is hope." 
Featured image: From front left: TAU Vice President of R&D Prof. Dan Peer, EP President Roberta Metsola, TAU President Prof. Ariel Porat, Knesset member Prof. Yossi Shain, and students at TAU. (Photo: Ofer Amram)