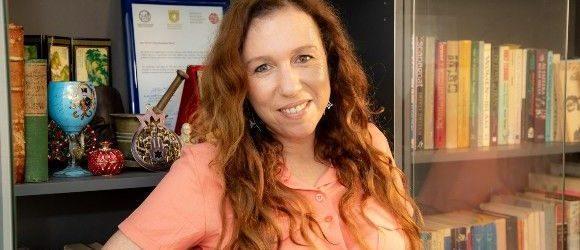 https://www.freunde-tau.org/wp-content/uploads/Alliance-580X330.jpg
TAU's Alliance Center for Iranian Studies is global authority on modern Iran and Iranian Jews.
By Melanie Takefman
Even though they have been enemies in official channels for decades, Iranians and Israelis have a mutual fascination with each other.
"Young Iranians are very intrigued by Israelis and are eager to contact them through social media," says Dr. Liora Hendelman-Baavur, the new director of TAU's Alliance Center for Iranian Studies and a historian of Iranian women and media in the 20th century. "They want to know what is beyond the image of the 'Zionist enemy' as presented by Iranian sources."
In parallel, the popularity of Teheran, a critically-acclaimed TV series about a Mossad agent in Iran, attests to the complex perception of Iran in Israel; Israelis view Iran as a threat but many are also nostalgic for the good relations the two countries enjoyed until 1979.
At TAU, this interest goes beyond curiosity. Now, in its 15th year, TAU's Alliance Center is the region's leading hub for academic research on Iran outside of Iran itself.
With the Iranian-Israeli conflict constantly in the news, the Center is more relevant than ever.
No group encapsulates the precariousness of this relationship more than Iran's 20,000-member Jewish community, says Hendelman-Baavur. Recent Iranian legislation enshrined its boycott of Israel and underscored local Jews' status as a minority at risk. The law makes it illegal for Iranians to meet with Israelis, a hard blow to Iranian Jews who until now could meet Israeli relatives in a third country.
Because Iranian Jews are a main focus of the Alliance Center's research, a photo exhibit documenting the community entitled "Trapped Minority" was planned to celebrate the Center's 15th anniversary. Although the exhibit was postponed indefinitely due to COVID-19, some of the photos by Iranian exile Hasan Sarbakhshian are published exclusively here.
Founded in 2005, the Center was the vision of TAU governor and honorary doctor Lord David Alliance of the UK as well as David and Laura Merage of the USA and TAU Prof. Emeritus David Menashri. United in their fondness for their birth land's language, culture and history, they dreamt of establishing a center that would generate new insights into Iran.
Fifteen years later, their vision has become a reality.
The Center has cultivated a generation of Iran scholars who work in think tanks, major media, diplomacy, security institutions and other related fields. Hendelman-Baavur and her colleagues Prof. Meir Litvak (former director of the Center) and Dr. Miriam Nissimov are highly sought-after experts in international academic forums. The Center has published and co-sponsored 20 books and has hosted dozens of conferences, workshops and other events in its short existence. Moreover, it has become a keeper of Iranian Jewish heritage under the auspices of the Habib Levy Program for Iranian Jewish History and its sizable archive as well as the Program for the Study of Iranian Jews in Israel under the auspices of the Iranian American Jewish Federation of New York.
The Center also publishes the ACIS Iran-Pulse, a digital newsletter regularly cited by top international organizations.
The unusual situation of being an expert on a place she has never visited and probably never will doesn't faze Hendelman-Baavur. On the contrary, she says it has made her a more thorough scholar. She often checks multiple sources and cross-references information. Because she cannot contact her Iranian colleagues, she has developed a robust network of Iran scholars around the world with whom she can collaborate. She follows Iranian Twitter and Telegram feeds and Persian-language news apps religiously.  
Similarly, the Center attracts international students from the region and beyond, including the United States and Turkey. This, Hendelman-Baavur says, is proof of its continuing relevance. Looking forward, she sees TAU strengthening its role as a global authority on Iran's modern history and Iranian Jewry, specifically because of this unique perspective.
Fetured image: Dr. Liora Hendelman-Baavur, the new director of TAU's Alliance Center for Iranian Studies. Photo: Moshe Bedarshi