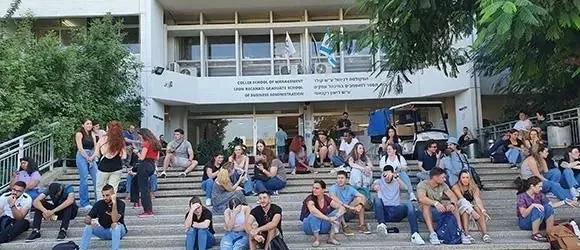 https://www.freunde-tau.org/wp-content/uploads/management2023-580_1.webp
 The only Israeli business school included in ranking by CEOWORLD Magazine.
Tel Aviv University's Coller School of Management was ranked among the 100 "Best Business Schools in The World For 2023"  by CEOWORLD Magazine, the only Israeli school to be included in this comprehensive international ranking. The ranking was conducted through the 2023 Global Business Schools survey among thousands of senior executives around the world and mentioned 500 selected schools among the 13,000 business administration schools operating in the world. Coller School of Management came in on the 99th place.
The ranking is based on seven main indicators of quality and reputation, including academic reputation, admission eligibility conditions, job placement rate, recruiting employer feedback, specialization reputation and global influence, as well as tuition fees and payments.  
Prof. Dan Amiram, Dean of the School of Management, says that the impressive ranking reflects "the hard work and dedication of hundreds of people – researchers, lecturers, students and alumni – who have all contributed to the extensive work which has earned the School its solid reputation over many years. We are very proud of the extraordinary achievements of our students and alumni, as well as the positive feedback and the international appreciation which we receive."
Prof. Dan Amiram, Dean of Tel Aviv University's School of Management
CEOWORLD Magazine conducted the survey among 35,000 business managers, alumni, international business influencers, industry professionals, business school academics and employers and recruiters in 156 countries, in the period between September 15 – December 22, 2022. 10% of the interviews were conducted by phone, 82% online and 8% by mail or in person. All quantitative interviews were conducted confidentially, without relying on the submission of data by the academic institutions.
This ranking follows shortly after the Pitchbook ranking for 2022 which placed TAU as number seven in the world for entrepreneurship, and on first place outside the U.S.