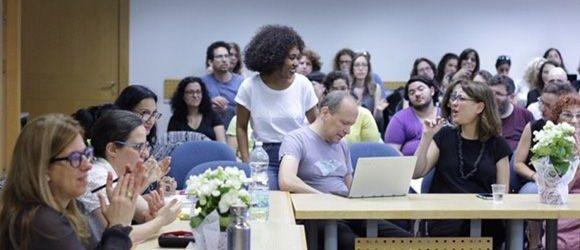 https://www.freunde-tau.org/wp-content/uploads/main-pic-580.jpg
TAU and Jewish women's group launched first B.A. program of its type in the Middle East.
Tel Aviv University this week alongside the National Council of Jewish Women (NCJW) are marking 20 years of partnership and the co-founding of the first-ever gender studies program in the Middle East.
Established in 2001, the NCJW Women and Gender Studies Program at The Shirley and Leslie Porter School of Cultural Studies, at the Entin Faculty of Humanities was the first – and remains the only – B.A. degree program on gender studies in Israel. The Program has since expanded to offer M.A. and Ph.D. tracks. To date, it boasts approximately 600 alumni.
Changing Society, Changing Lives
In light of its two-decade anniversary, the Program's head Prof. Daphna Hacker, from the Buchmann Faculty of Law, explains: "It's a degree but it's not only about intellectual theories, it's about our own lives – our private most intimate relations, our political choices, our engagement in social activism. Once you're exposed to feminist theories and gender studies, most likely your perspective will change not only on society, but on your own life."
Addressing the 20-year milestone, TAU President Prof. Ariel Porat lauded the Program and its founders, thanking NCJW for the endowment that made the Program possible. Additionally, he hailed the Program for its role in producing agents for social change, including graduates who have become educators, journalists, scholars, entrepreneurs and social activists.
"We can see the important impact of the Program not just on its graduates and teachers, but also on the wider Tel Aviv University community," he said in recorded remarks. "We're seeing more women professors in the top management, as vice presidents, deans and heads of schools – and also a greater representation of women scientists and students in STEM fields."
Prof. Hacker sees the Program's classrooms as microcosms of the type of pluralistic setting needed to further swing the pendulum toward gender equity in Israel. "Gender studies teach us how to open our eyes to reality," she says. "Feminism, since it was established, has been about the connection between academic knowledge and activism for social change."
A conference hosted by the NCJW Women and Gender Studies Program (Photo: Tanya Gurov)
The Program's influence is evident in its impact on the lives of its students. For instance, it has provided Ph.D. researcher and lecturer Estee Rieder-Indursky an inroad to academia she wouldn't have thought possible 20 years ago. As a Haredi social activist, Rider-Indursky is making strides giving voice to women previously unheard from in academic research. In 2020, she won the Dan David Prize for Doctoral Students for her research on discourses of Haredi women who study the Talmud.
Going forward, Hacker's hopes to broaden awareness of the gender studies Program to draw new students and future social leaders. This includes adding to its ranks more men, LGBTQ students, students with disabilities, ultra-Orthodox women, and Arab Israeli students.
"Everyone should be included in the conversation and the research. Since we are shaping our research through our experiences and personal backgrounds, it's crucial we have diversity among our students and faculty," Hacker stresses.
Extending Academic Knowledge Beyond Campus
In addition to the gender studies Program at TAU, the partnership between the University and NCJW has borne additional projects. Now hosting its 2nd cohort, "Connecting for Impact: Strengthening the Feminist Ecosystem in Israel" is one of the partnership's most recent achievements extending academic knowledge beyond the walls of traditional university campus settings.
Hacker hails the University's partnership with NCJW – the oldest Jewish women's volunteer organization in the U.S. – as a fruitful collaboration that facilitates valuable knowledge sharing between scholars, lobbyists, activist and community leaders from both the U.S. and Israel.
An online event Thursday (June 17) celebrating the 20-year anniversary of the NCJW Women and Gender Studies Program at TAU will feature a panel of leaders exploring the state of gender equity in Israel. Along with NCJW President Dana Gershon and Prof. Hacker, guest speakers include Israeli Cabinet Minister Merav Michaeli, Director of Arab Community program at Yad Hanadiv Foundation Dr. Safa Abu-Rabia, and Ridur-Indursky. Former NCJW president, Florida State Senator Nan Rich, will moderate the event.
To register for the panel, please visit here.
Featured image: NCJW Women and Gender Studies Program at TAU (Photo: Jonathan Mizrahi)