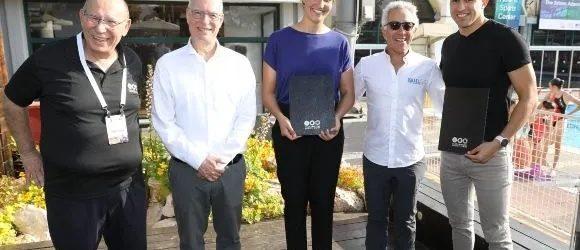 https://www.freunde-tau.org/wp-content/uploads/Sylvan-Adams-Sports-Center-inauguration-2022-580.jpg
Upgraded facility "will nurture world-class athletes and future medal winners.
At a festive ceremony held on May 11, Tel Aviv University inaugurated the Sylvan Adams Sports Center. The Sylvan Adams sponsored sports facilities at TAU now include both the Sports Center and the adjacent Sports Institute in his name.   
"It is my mission to invest in the sporting infrastructure of Israel," said Adams, the Center's benefactor and Vice Chairman of TAU's Board of Governors, at the event. "The Sylvan Adams Sports Center at Tel Aviv University is a flagship project which will nurture world-class athletes and future medal winners."   
Adams is also a TAU Honorary Doctor and Global Campaign cabinet member. The inauguration took place during the Board of Governors meeting. 
"Sports is a language—everybody speaks it. It enables us to show the true and best face of Israel," Adams said, particularly in the face of the misconceptions about the country around the world.  
WATCH: Vice Chair of the Board of Governors and TAU Honorary Doctor Sylvan Adams Launches the Upgraded Sports Complex at TAU
Additionally, Adams noted that his projects at TAU continue the legacy of his late parents, Marcel and Annie, who were also TAU Governors and Honorary Doctors. He attended the ceremony with his wife Margaret.   
Speaking at the event, TAU President Prof. Ariel Porat said, "Sylvan Adams is the undisputed 'Mr. Sports' of Israel. The Center will consolidate TAU sports facilities into a single world-class hub of sports excellence, research, training, rehabilitation and community activities." 
He added that it will serve thousands of members of the local community and hundreds of professional athletes, in addition to boosting TAU's ability to recruit Israeli scientists from top international institutions. "Sylvan's contribution to the Sports Center is a reflection of his love for Israel." 
The dedication of the Sports Center will enable its expansion and renovation, equipping it with advanced facilities to improve the achievements of Israeli athletes and benefit the community. 
Planned additions include a new outdoor Olympic swimming pool that can provide athletes with world-class training conditions, thus encouraging success in international competitions and hold international conferences. 
In 2017, the Sylvan Adams Sports Institute at TAU was established to enhance athletic performance through science.  
Also at Wednesday's ceremony, Adams presented certificates to the inaugural recipients of the Sylvan Adams Olympic scholarships at TAU: two-time Olympic swimmer Andi Murez, a student in the New York State/American Program at TAU's Faculty of Medicine, and former Israeli national swimming champion Shahar Resman, a student in the Kellogg-Recanati International Executive MBA Program at the Coller School of Management.  
Backed by Adams, the scholarships were established to enable elite athletes to study for new careers following their retirement from competitive sports. 
Murez spoke on behalf of the scholarship recipients: "I hope we inspire younger athletes in both sport and in school. The scholarship helps us focus in school, but also motivate us to keep up the hard work of training and competing." 
She added that she looks forward to continuing to use the "amazing sports facilities here at Tel Aviv University," where she trained along with fellow Team Israel swimmers ahead of the Tokyo 2020 Games.   
"We reached the Olympic finals," she said. "We couldn't have done it without your support."
Featured image: From left: Director of the Sylvan Adams Sports Institute Prof. Chaim Pick, TAU President Prof. Ariel Porat, Andi Murez, Sylvan Adams, Shahar Resman. (Photo: Chen Galili)