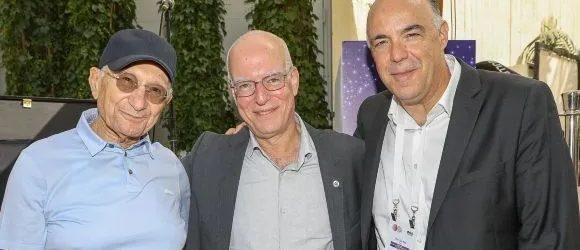 https://www.freunde-tau.org/wp-content/uploads/Sagol_Porat_Peer_org1.jpg
Game-changing program will incorporate cutting-edge field into mainstream medical practice.
Regenerative Medicine is an emerging field that develops methods to regrow, repair or replace damaged or diseased cells, organs or tissues. Now, Tel Aviv University has launched the Sagol Center for Regenerative Medicine  to accelerate research and training in this new and burgeoning field at TAU and in Israel.
The Center, which was inaugurated during TAU's Board of Governors meeting, was initiated by TAU benefactor and Honorary Doctor, Sami Sagol, Vice Chairman of the Board of Governors, together with his wife, Tova, and is being supported by the Sagol family.
Regenerative medicine includes cellular therapies such as the generation and use of therapeutic stem cells, tissue engineering and biomaterials, and medical devices and production of artificial organs. Conditions that require regenerative medicine include kidney repair, heart disease, cancer, and neurodegenerative disorders.
The Sagol Center for Regenerative Medicine will develop regenerative-based treatments and medications and accelerate the transfer of findings from experimental research to practical applications. Through the Center, TAU medical students in a specially designed MD-PhD track, along with PhD candidates from other faculties, will receive fellowships. In parallel, the Center will provide research grants and cutting-edge equipment to facilitate discoveries. Prof. Benjamin Dekel, a physician and scientist from the Sheba Medical Center and the Klayman Chair of Nephro-Urology at the TAU Faculty of Medicine, will head the Center.
"My dream is to use this Center to facilitate a vision of clinical regenerative departments in the hospital setting and cure patients with the technology that our brightest researchers will develop," Dekel said.
"It's only the start of this regenerative field," said Sami Sagol at the festive outdoor inauguration. "Billions are going to come into this field because we need it: governments, businesses and other players."
Prof. Ariel Porat: "As he has done before, Sami has predicted the scientific future many years before others."
During the inauguration ceremony, 2022 TAU Honorary Doctor Katalin Karikó gave the keynote talk on the future role of mRNA, her field of expertise, in regenerative therapies. A musical performance followed the lecture.
Prof. Dan Peer, TAU's Vice President of Research and Development, concluded the event: "When Sami dreams, he dreams big. As a result of his visionary philanthropy, we will have an impressive impact on regenerative health."
Featured image: From left: Sami Sagol, Prof. Ariel Porat, Prof. Dan Peer Credit: Chen Galili