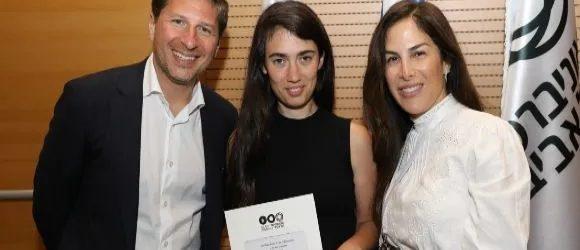 https://www.freunde-tau.org/wp-content/uploads/MIG-Prize-2022-580.jpg
Three international students and three TAU teams recognized for projects that redefine architecture.
The 2022 Michel Gelrubin Prize in Architecture (MIG Prize) was awarded to students—both from international institutions and from Tel Aviv University—on May 16, at a ceremony held during TAU's Board of Governors meeting.
Now in its ninth year, the Prize is awarded annually to students from around the world whose work demonstrates a combination of vision and talent in architecture and interior design. This year's theme was "Extending Architecture," or concepts that take architecture to unfamiliar domains and thereby redefine the status, form and materiality of the discipline.
TAU Governors Leslie Gelrubin Benitah and Samuel Gelrubin established the Prize in honor of their late father, French philanthropist and real estate investor Michel Gelrubin, who was a dedicated supporter of Israel, education and TAU. Leslie, Samuel and their mother Lyne Gelrubin all attended the ceremony.
Winners were chosen by renowned architect Kobi Karp along with a jury of experts in the fields of design, business, construction, journalism, and architecture.
The international category recipients were:
1st place—Shoya Ishiguro, Waseda University, Toyko
2nd place—Zhuo-ming Shia, Delft Technical University, Netherlands
3rd place—Ramona Scheffer, Delft Technical University, Netherlands
The recipients from TAU's Azrieli School of Architecture were:
1st place—Barak Weizman and Mai Whiteson
2nd place—Gabriel Abboud and Noa Natanson
3rd place—Raz Baran and Noa Shimoni
"Since 2013, my brother Samuel and I have had the privilege to award architecture students who are looking ahead and imagining the future—students who we hope will have the kinds of careers and opportunities that our jurors have had," said Leslie Gelrubin Benitah, a member of TAU's Global Campaign cabinet. "Our goal is to identify new architectural talent and give them the opportunity to get some international recognition."
Also speaking at the event, TAU Vice President Amos Elad said: "Every year we see the growth of the talent, and we understand the need for this important Prize."
Prof. Eran Neuman, Dean of the David and Yolanda Katz Faculty of Arts, moderated the event. This year's selection process saw entries from top global institutions, including Harvard University, Princeton University, University of Pennsylvania, McGill University, and Sapienza University of Rome.
For more information on the prize and past winners: https://migprize.com
Featured image: From left: Samuel Gelrubin, 2022 Michel Gelrubin Prize winner Mai Whiteson, and Leslie Gelrubin Benitah. (Photo: Chen Galili)