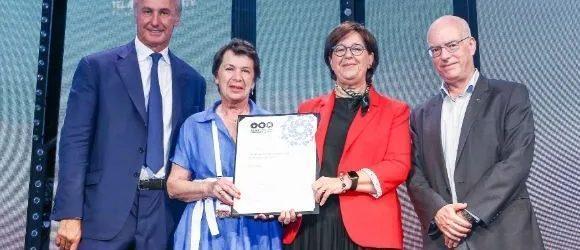 https://www.freunde-tau.org/wp-content/uploads/Ramniceanu-award-winner_580x330_ofer_amran_3454.jpg
TAU's Ramniceanu Prize goes to tahini manufacturer and philanthropist Julia Zaher.
In an especially moving ceremony during Tel Aviv University's 2022 Board of Governors meeting, Israeli Arab businesswoman Julia Zaher was honored for her entrepreneurship and civic leadership role with the Hugo Ramniceanu Prize for Economics.
Zaher is CEO of Al-Arz Tahini in Nazareth. She took a local product and turned it into a global brand sold in 18 countries, including by Amazon in the US. Zaher is the rare female CEO in the Israeli business arena, and she is the only woman in Israel to lead a major Arab-owned company. She also has a long history of philanthropic donations aimed at improving the lives of her fellow Israeli-Arabs—especially women, disabled people, and the LGBT community.
More to the point, Zaher braved controversy to give a voice to weaker segments of the population who were not being heard within Arab society in Israel.
Shared Values
"Mrs. Zaher's social consciousness aligns with the priorities and values of TAU," said Prof. Ariel Porat, TAU President, at the ceremony. "We understand, like Mrs. Zaher, that for a country to have a healthy and prosperous economy, you need to have an equitable and inclusive society where everyone is valued, and where every young person's potential is nurtured.
"Through the Ramniceanu Prize, you are continuing to promote a thriving and socially responsible State of Israel," Prof. Porat told Zohar.
Always Philanthropic
In her acceptance speech, Zaher, who donated her prize money to a nursing studies scholarship at TAU for an Arab Israeli student, said that her career had been about fighting for the things she cared about. As a young widow and mother of two, she took over her late husband's tahini factory. Once her business was going well, Zaher felt a responsibility to "take care of the less fortunate."
"The common ground of everything I do both in business and philanthropy is love, of nurturing others body and soul," Zaher said.
Dr. Monique Barel, TAU Governor and daughter of the late Hugo Ramniceanu, noted several similarities between the Prize's namesake and Zaher. "[Like my father] you were incredibly brave, as even when suffering from the great loss of your husband, you decided to take over the company he had created, while you were trained as a mathematics teacher and not an entrepreneur. You succeeded in paying off the debts of the company and even upgraded the manufacturing process."
The ceremony concluded with the awarding of the Hugo and Valerie Ramniceanu Scholarships in Economics, by their son Gerald, to three TAU students, Ido Tel Tzur, Eden Cohen and Nathan Cohen Itay.
Musician Sefi Asfouri opened the ceremony with a moving performance, which enraptured the audience.
Featured image: From left: François Heilbronn, President of TAU's French Friends Association, Monique Barel, Julia Zaher and TAU President Prof. Ariel Porat. Credit: Ofer Amram